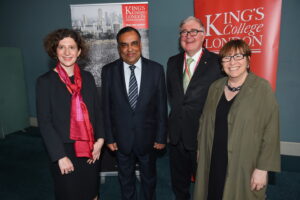 As part of the Second Global India Network Meeting Event, His Excellency, the High Commissioner of India to the UK, Mr YK Sinha was invited to King's College London on Monday, 23 April. The outreach event was a wide-ranging and impactful moment of a two-day programme organised by the Global India Network, a training network for PhD students working on issues of direct contemporary policy relevance to India and Europe, including the future relationship between India and the European Union. The event was well attended by students and members of the public that were not part of the Global India Network.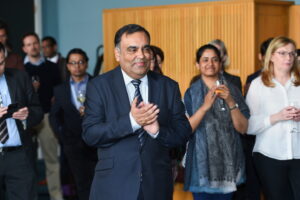 Commenting on the event, Interim Director of the India Institute, Dr Louise Tillin, said: "We were delighted that India's High Commissioner to the UK, Mr YK Sinha, could join us to offer his keynote reflections on the evolving relationship between the UK and India in the context of Brexit negotiations. The Global India European Training Network, of which King's India Institute is a partner, is training a new generation of PhD students focused on issues of pressing contemporary concern to India and the EU. This topical event was a reflection of the debates that researchers within the network are engaged in." 
His Excellency Mr YK Sinha delivered a keynote address at the event which explored 'UK, EU and India Relations in the Context of Brexit'.