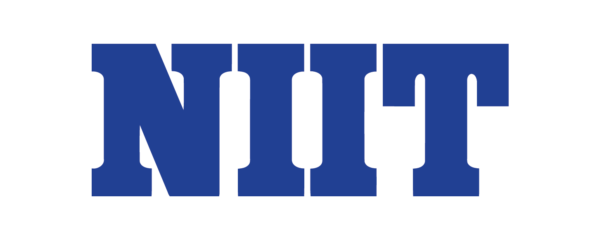 NIIT
Established in 1981, NIIT Limited is a global leader in Skills and Talent Development that offers multi-disciplinary learning management and training delivery solutions to corporations, institutions, and individuals in over 40 countries. NIIT has three main lines of business across the globe – Corporate Learning Group, Skills and Careers Group, and MindChampion Learning Systems Limited.
NIIT's Corporate Learning Group (CLG) offers Managed Training Services (MTS) to market-leading companies in North America, Europe and Asia Pacific. The comprehensive suite of Managed Training Services includes custom Curriculum Design and Content Development, Learning Administration, Learning Delivery, Strategic Sourcing, Learning Technology, and Advisory Services. With a team of some of the world's finest learning professionals, NIIT is dedicated to helping customers increase the business value of learning and development. Built on the sound principles of 'Running Training like a Business', NIIT's Managed Training Services and best-in-class training processes enable customers to align business goals with L&D, reduce costs, realize measurable value, benefit from rock-solid operations, and increase business impact.
The Skills & Careers Group (SNC) delivers a diverse range of learning and talent development programs to millions of individual and corporate learners in areas including Digital Transformation, Banking, Finance & Insurance, Soft Skills, Business Process Excellence, Retail Sales Enablement, Management Education, Multi-Sectoral Vocational Skills, Digital Media Marketing, and new age IT.
As NIIT's wholly owned subsidiary for its K-12 school learning initiative – MindChampion Learning Systems Limited (MLSL) provides a futuristic NIIT nGuru range of learning solutions for schools comprising of interactive classrooms with digital content, a technology-driven Math Lab, IT Wizard programs and Quick School – an Education Resource Planning software.
The Training.com learning platform is an NIIT initiative for advanced career programs, which are delivered live by industry experts in an immersive and interactive online mode, combining instructor-led classrooms with the convenience of accessing training sessions from anywhere.
NIIT has been globally recognized with over one hundred industry recognitions. NIIT has been named among the Top 20 Training Outsourcing Companies for the past ten consecutive years by trainingindustry.com. NIIT is also accredited by the Learning and Performance Institute, UK. As the Most Trusted Training Brand in India for 5th year in a row (Brand Trust Report, 2017), NIIT's learning and talent development solutions, continue to receive widespread recognition globally.