By Lara Klossek, IBEI Fellow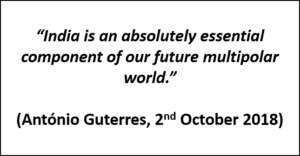 UN Secretary-General António Guterres' three-day visit to India at the beginning of October 2018 was largely ignored. While the fact that the visit happened does not point towards a fundamental change in the UN's approach towards India, it is still a sign that India's contribution to Peace Keeping is finding growing recognition within the UN. In a context where the United States is withdrawing its support for the UN, India and other champions of a multilateral world order are becoming increasingly important if the UN is to maintain its global governance function.
India has been, from the earliest peacekeeping deployments in 1948 onwards, one of the strongest and most active supporters of peacekeeping interventions – a crucial UN tool for supporting international peace. Currently, India is the fourth largest troop contributor to UN missions, just behind Ethiopia, Rwanda and Bangladesh. India has also shown commitment to contributing to recent developments that provide a supportive framework for international peacekeeping. In the area of training, India has shared its expertise by conducting training courses for African peacekeeper in cooperation with the United States. In addition, India has been a forerunner in the implementation of the Women, Peace and Security Agenda (WPS). India provided the first all-female police unit in Liberia and has since offered specialized courses for female officers, which are attended by peacekeepers from around the world. The Indian commitment to implement the Women, Peace and Security Agenda is also evident from the fact that India was one of the few countries that reached the UN's 15 per cent target for female military observers and staff officers by the end of 2017.
On the other hand, India has simultaneously been critical of more recent developments in the field of peace and security and the associated role of the UN, particularly the changing nature of peacekeeping missions, which has moved towards more robust mandates and to Chapter VII missions. Robust peacekeeping allows the use of force at a tactical level with the consent of the host state or parties to the conflict. Chapter VII missions, or 'peace enforcement' missions, allow the strategic use of force which does not require the host state's consent. This change occurred as a consequence of the surge of civil wars and inner-state conflicts post-1990, as well as to the international community's peacekeeping failures in Rwanda, Bosnia and Herzegovina, and Somalia. For India, these changes mean that the boundaries between peacekeeping and other forms of military intervention are becoming too fluid, which poses a challenge to its core principles of 'non-intervention', 'non-use of force' and 'impartiality'.  India has also argued that this approach puts the security of peacekeepers at risk and exposes them to difficult legal and political situations. India claims that the strong focus on the militarization of peacekeeping has distracted the international community from seeking political solutions to conflicts – solutions that emerge from negotiations that involve civilians, and are sensitive to pre-existing local conditions. This approach, India argues, enables successful peacekeeping by minimizing external interference and enhancing trust between peacekeepers and civilians.
India has also frequently raised the issue of the exclusion of Troop Contributing Countries (TCCs) from decision-making processes. From India's perspective, this exclusion is particularly problematic as TCCs have expertise in the on-ground realities that could inform mission planning and mandate formulation. Better consultation with TCCs, would also prevent the UN Security Council from formulating mandates that are too ambitious, and do not adequately consider the resources needed for multidimensional missions.
Some Western powers have interpreted India's concerns on peace and security as being conservative, obstructive or revisionist. This view overlooks India's contribution, expertise and capacity for informed critique. In a world, in which the United States is shifting towards unilateralism, those who support global governance in the realm of peace and security need to negotiate a shared vision. A mandate for international peacekeeping can only be effective if rising powers like India, who have demonstrated a commitment to this UN policy tool, are given a voice and an opportunity to shape the future of global governance in this area.