By Anish Tiwari (DCU)
Cross-border acquisitions often spark controversies, the most prominent example being the acquisition of British automaker Jaguar Land Rover by Indian automaker TATA Group. The recent acquisition of Indian e-commerce start-up Flipkart by Walmart Inc. unsurprisingly has drawn criticism from various groups including the Confederation of All India Traders (CAIT), Swadeshi Jagran Manch (SJM) a cultural group affiliated to RSS (a prominent Hindu nationalist organisation), and several independent farmers and shop owners. Flipkart is India's answer to Amazon; an e-commerce platform started as a bookstore in 2007 by two ex-employees of Amazon, that currently sells over 80 million products across 80 plus categories.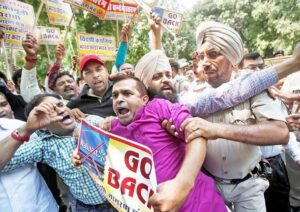 Slogans of 'Walmart go Back' voice concerns against potential repatriation of profits, loss of managerial expertise, and reduced employment opportunities for the local community. The protestors claim that the acquisition is against the interest of small traders that account for 90% of India's retail trade (Quartz, 2018). Some analysts say that these objections reflect deep-rooted cultural and political concerns linked with India's colonial past. However, these concerns are not without foundation; they have been widely discussed by researchers in the field of International Business. According to a study by Labour Institue for Economic Research, cross-border acquisitions result in job losses and downsizing in the long run. However, it is important to understand that not all acquisitions are the same. They are complex, multilateral and multi-dimensional business decisions representing motivations of both the buyer and seller.
Potential outcomes of cross-border acquisition for the acquired firm can range from closure at one extreme, to full support from the parent to nurture and grow the business at the other. Moreover, acquisition research, in general, has been based on the takeover of large listed U.S. companies. There is relatively little empirical evidence on the impact of acquisitions of private target firms such as Flipkart. This acquisition has come at a time when Flipkart, with limited access to funds, was struggling to challenge the might of Amazon in its home market. The takeover can provide Flipkart with the necessary funds to sustain its market lead, and could also help in strengthening of its supply-chain, given Walmart's expertise in the field. Furthermore, if Walmart's plans to take Flipkart public come to fruition, the company will have the funds to expand exponentially, thus creating huge employment opportunities in the sub-continent. The outcome of this acquisition, however, lies in the future and only time will tell whether Flipkart reaches the shelves of Indian households, or gets shelved itself.